By Pinpointerror @ December 20, 2013 at 11:59am

Winter has arrived which means the holidays are finally here! If you're not going an amazing trip or building snowmen, why not spend your cold nights in the Kingdom of Rendel? We've got an event and lots of new costume items, mounts, costume weapons, and more for you to enjoy! Starting today, players can enjoy the festivities in the Kingdom of Rendel including fun challenges and events with amazing and permanent rewards!
See the event in action with our trailer!
What holiday festivities will you find in the event? Head to Ingen and get ready to go on the hunt. Before heading out, get your daily fortune by talking to the Old Fortune-Teller. Answer her questions and get rewarded with one of four special buffs. Don't miss out on free transformations by talking to Mary – it's fun to complete quests in a Santa suit! Also, there are rumors of a Thief Santa appearing at random to ruin the joyous spirit of the holidays. If you encounter him, take him down and get rewarded with in-game money and more, including holiday customization items for your character.
Did you happen to pick up a Christmas Card while slaying monsters in game? Talk to Chris in Ingen and craft a special Sock Package full of surprises!
Collect and turn in for valuable rewards!
Also, while you're in Ingen, be sure to talk to Happy of the Santa Doming tribe. He speaks of a terrifying enemy, the Ice Queen, headed to attack the city and he needs your help to stop her. After accepting the quest, you and your party will be transported to the Ice World instance to do battle. Succeed and get rewarded with incredible items including rare accessories, customization items, or even a permanent mount! There will be an instance appropriate for your level range.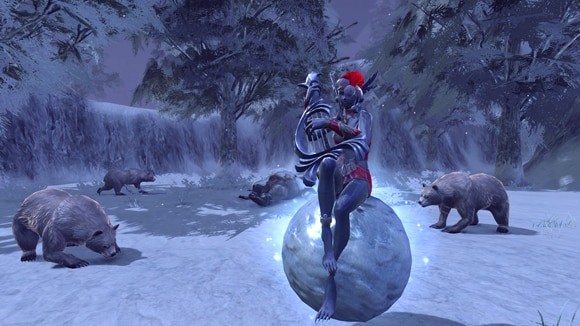 Defend Ingen by defeating the Ice Queen and get rewarded.
If you see Snowmen around Ingen, be sure to purchase Snowballs from Chris and throw them at the Snowmen. Get players to help defeat the invading snowmen and everyone in that area will receive a special buff!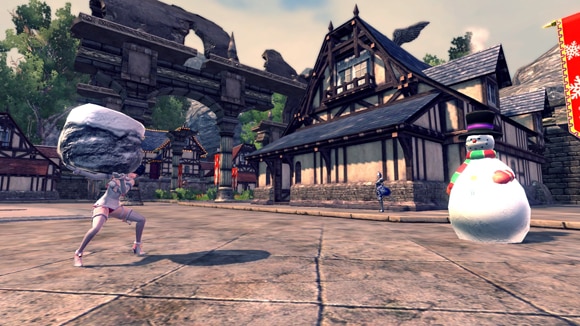 Help defeat the snowmen and everyone in area receives a buff.
Fill your stockings with rewards from the event and celebrate with RaiderZ into the new year. Remember, hunt together or die alone. Happy hunting and happy holidays from all of us at Perfect World Entertainment and RaiderZ!
Not registered? Click here to register for RaiderZ. The best part: RaiderZ is free to play! Get more fan-exclusive content by liking our Facebook Page, follow and tweet us on Twitter, and subscribe to our YouTube channel for the newest RaiderZ videos.