By sixrax @ October 17, 2011 at 5:29pm

For new adventurers who are still learning ropes of hunting monsters, Teress Plain is a great training ground. Here's a quick travel guide for those who plan on taking a trip to Teress Plain.
Outside of the bustling port city of Ingen, lays the quiet land of Teress Plains. There are several regions within Teress Plain where settlers of all kinds have staked their claim in this fertile land. Locked chests left by passing travelers have been scattered throughout the region. Valuable gems and ores can be mined from stones which have been left untouched for centuries. There are many treasures to behold within Teress Plain.
Some of the more notable regions in Teress Plain are the Teleport Digs, the Tranquil Forest, the Rengot Goblin Territory and the Vesphio Camp.

EXPLORING TELEPORT DIGS
Many have traveled from far away lands to excavate a mythical stone which was discovered in the center of Teress Plain. It's rumored that archeologists have harvested the energy emitted from the stone for the purpose of teleportation.
Unfortunately, the excavation process has been slow and treacherous due to the presence of Rengot Goblins inhabiting the area. It's a dangerous job, but someone's got to do it!

INVADING THE RENGOT GOBLIN TERRITORY
West of the Teleport Digs is Rengot Goblin Territory. Deadly Rengot Archers and Warriors patrol the perimeter of their stronghold, ensuring that only their Rengot kin may enter their fortress. Within the wooden walls, Rengot officials plan their next attack on the Teleport Digs site.
In order to continue the Teleport Digs project, these nuisances must be eradicated.

PICNIC IN THE TRANQUIL FOREST
Dark, scary, and full of spiders. The Tranquil Forest is an arachnophobic's worst nightmare. Poisonous spiders have claimed this land as their home and traces of their presence are visible by the amount of spider webs forever covering the area.
Chaotic Tree Spirits roam the forests, looking to destroy anyone who dares step foot onto their sacred land.



BANDITS OF VESPHIO CAMP
The Vesphio bandits have fortified a stronghold on the northern outskirts of the Teress Plain. These bandits have terrorized surrounding farms and settlers, kidnapping or murdering anyone who stands between them and easy loot.
They are all superior swordsmen, who won't think twice about challenging you to a duel to the death. But be warned, these bandits have no honor!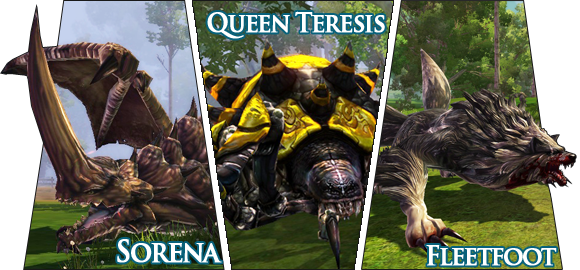 UNFRIENDLY NEIGHBORS
The Vesphio Bandits and the Rengot Goblins may seem fearsome, but they are weak compared to the true rulers of these plains. The Teress Plain is inhabited by three powerful beasts: Sorena the Dragon, Queen Teresis the Spider and Fleetfoot the Alphawolf. These creatures show no fear towards any adventurers who dare oppose them.
It is rumored that materials gathered from these slain beasts can be forged into powerful weapons and armor. Only experienced and skilled adventurers are worthy of taming these three beasts.
We hope that you've enjoyed this quick tour of Teress Plain. If you haven't already, make sure you register for Closed Beta. For more screenshots, join our Facebook Community.
Free to play – Monster-hunting action MMORPG – RaiderZ