By sixrax @ November 28, 2011 at 1:06pm

For players, the ability to pick and choose skills in RaiderZ allows for a high-level of personalization. This means that players can build a character to their own liking and style of play.
Currently, each style can use at least two types of weapons. This means that at any given time, a player may have access to at least two different style skill trees with a given weapon type.
For example, players using a blunt and shield combination will have access to both the Defender and Cleric style skill trees.
This Defender/Cleric style will be to heal themselves and will be able to use powerful defense-increasing skills that will make them temporarily invulnerable to many monster attacks.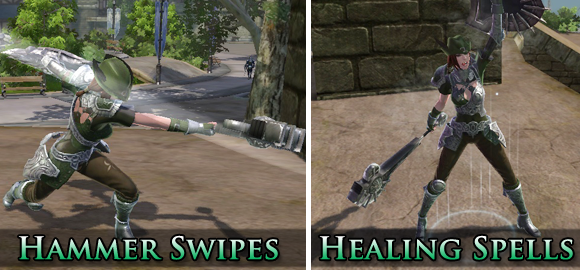 This hybrid style will make an excellent tank, however, this hybrid style sacrifices damage dealing skills for support and defense skills.
For players seeking a more offensive style, a Defender/Sorcerer style may be worth a look.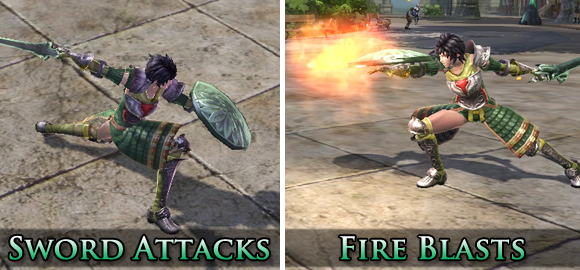 Not only can this Defender/Sorcerer hybrid deal damage with quick and calculated sword swipes and shield bashes, but they can also blast enemies away with fearsome ice and fire magic.
Do you want to be a Cleric, but you're sick and tired of people begging for heals and buffs? Try on this Cleric/Beserker hybrid on for size!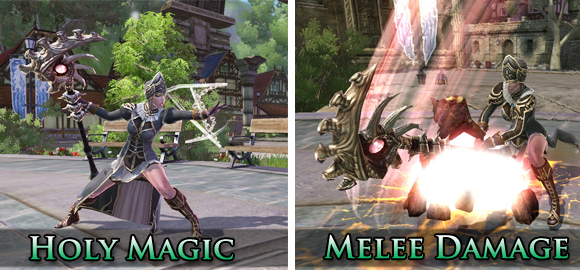 The Cleric/Beserker style utilizes the striking power of the two-handed hammer while still retaining many classic Cleric skills such as healing spells and holy magic.
These are just a few common hybrid styles, however, because players have complete access to all skill trees at any given time, they are allowed to create their own hybrid classes.
The ability to switch weapons mid-battle also allows for more customization. Skill hot keys can be bound to certain weapons, and when a user switches their weapon to another type, the skill hot keys will automatically change for that weapon type.
This means you can spend your skill points in creating a quad-hybrid character — a Sorcerer/Defender and Cleric/Beserker character! A frightening combination, indeed!
But remember, you have a limited amount of skill points to use…so invest into your skills wisely!
Are you going hybrid in RaiderZ? Let us know in the comments below!
Can't get enough of RaiderZ? Join our growing Facebook Community for exclusive content!
Got questions? Ask us on Twitter!
Free to play – Monster-hunting action MMORPG – RaiderZ