By Synchroze @ February 14, 2013 at 11:03am

Show your love for Atlantis by taking part in our second annual Valentine's Day Event!
The Valentine's Messengers, Eros and Psyche, are in Atlantis with quests for everyone. You can complete 3 quests a day for Valentine's Day treats! If you complete the quests with a special friend you'll earn EXP and Charisma, increasing the bond between you two. To get started on this event, visit Eros and Psyche near the Imperial Palace.

Also be sure to check your in-game mail for a Valentine's Gift Material Pack that will help you get started on crafting on the event.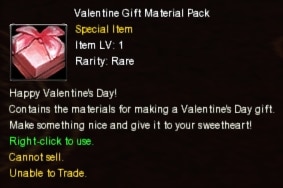 This event won't be around for long so take part in the event and get a daily reward out of it!