By Pinpointerror @ March 6, 2013 at 4:00pm

RaiderZ has a classless skill system which rewards players for experimenting with various combat styles. They must effectively time their attacks and skill use to defeat the vile beasts and epic boss monsters in the Kingdom of Rendel. One mistake and it's assured defeat.
During experimentation, players may discover that certain skills do not fit their playstyle. Does that fireball spell take too long to cast and you want to do more instant damage? Does a shield slow you down in times of battle? Fortunately, players are granted a quest item, the Novice Book of Oblivion, during their progress allowing them to respecialize and allot points into different skill trees.
However, as you gain more experience as a fighter, you may want to reassign points into new skills for a more varied fight style or many points into a small set of skills for a focused fighting style. By using a Book of Oblivion (for levels 30 and below) or an Advanced Book of Oblivion (for levels 31 to 40), your points will automatically reset allowing you to assign points into any skill tree.
What better way to prepare for the tough fight against the fearsome Chimera or the imposing Zygniv with a new set of skills? For a limited time, the Book of Oblivion and Advanced Book of Oblivion will be on sale at 30% off. To purchase these items, access the in-game Cash Shop under the Main tab and take advantage of these amazing deals before they're gone!

While in game, press Esc (Escape) and select the Cash Shop button.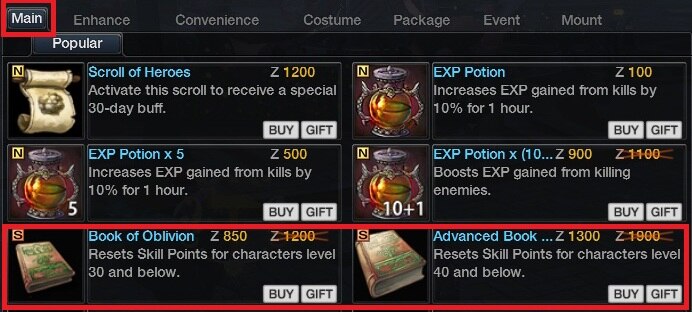 Both Book of Oblivions are on sale at 30% off for a limited time!

Perfect your character and take on the monsters of RaiderZ with ease in this monster-hunting action MMORPG! Not registered yet? Click here to register for RaiderZ. The best part: RaiderZ is free to play!
Get more fan-exclusive content by liking our Facebook Page, follow and tweet us on Twitter, and subscribe to our YouTube channel for the newest RaiderZ videos.
Free to play – Monster-hunting action MMORPG – RaiderZ