By Pinpointerror @ November 30, 2012 at 9:07pm
The in-game chat is a nice resource to interact with other brave adventurers in RaiderZ. Need help on a quest? Want to team up to take down the Chimera? Looking for a friendly guild on Diago? Then, look no further than the chat system. However, in certain areas, chatting may be difficult due to a flood of spammers selling currency or services illegally. Not all is lost! Here's what you can do to make your game experience more pleasant.

Take a screenshot by pressing the Print Screen (Prt Scr) button on your keyboard. The picture will be saved to this folder: C:\Users\yourusername\Documents\Raiderz\ScreenShot. Upload that screenshot to an image-hosting site like Imgur. Note the player name, server, and send that information along with the image link to the Perfect World Support Team. They will then take the necessary action.

You can also use the in-game mute/block feature to ignore chat from anyone. Type /b name or /block name to ignore a player in game.


You will no longer see any chat from that player.

You can also create a custom chat box and only see messages you want to see! Want to see how much damage Zygniv took from your fireball? Do you only want to whisper your best friend in game? It's simple!

Add a new chat tab and name it.


Right-click on the tab and select Settings.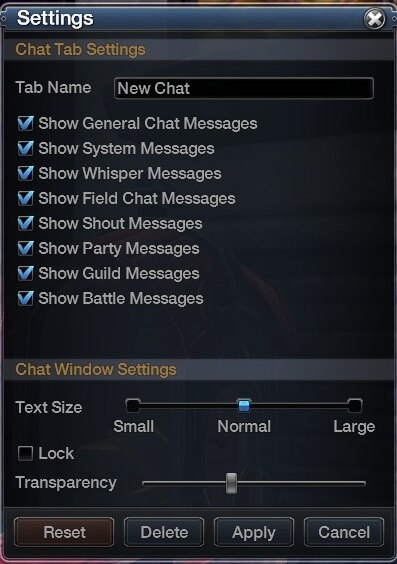 Uncheck any boxes for chat you don't want to see then click Apply. Ignore those pesky spammers!


Buying gold adds inflation to the in-game economy and makes everything much more expensive for you and everyone else! Also, many of these services will ask for your login information then permanently steal your account by removing all items and money off it. Don't support these services and invite more spammers into the game. If everyone ignores them and plays the game fairly, they will gone before you know. Remember, you can help get rid of them by not supporting them!

We want to assure you that we are close to a permanent solution to remove and filter any unnecessary chatter from the game. We aim to provide you the best possible experience in RaiderZ and will work non-stop to achieve it.
So, remember to hunt together or die alone in the Kingdom of Rendel! Happy hunting.
Get more fan-exclusive content by liking our Facebook Page, follow and tweet us on Twitter, and subscribe to our YouTube channel for the newest RaiderZ videos.
Free to play – Monster-hunting action MMORPG – RaiderZ